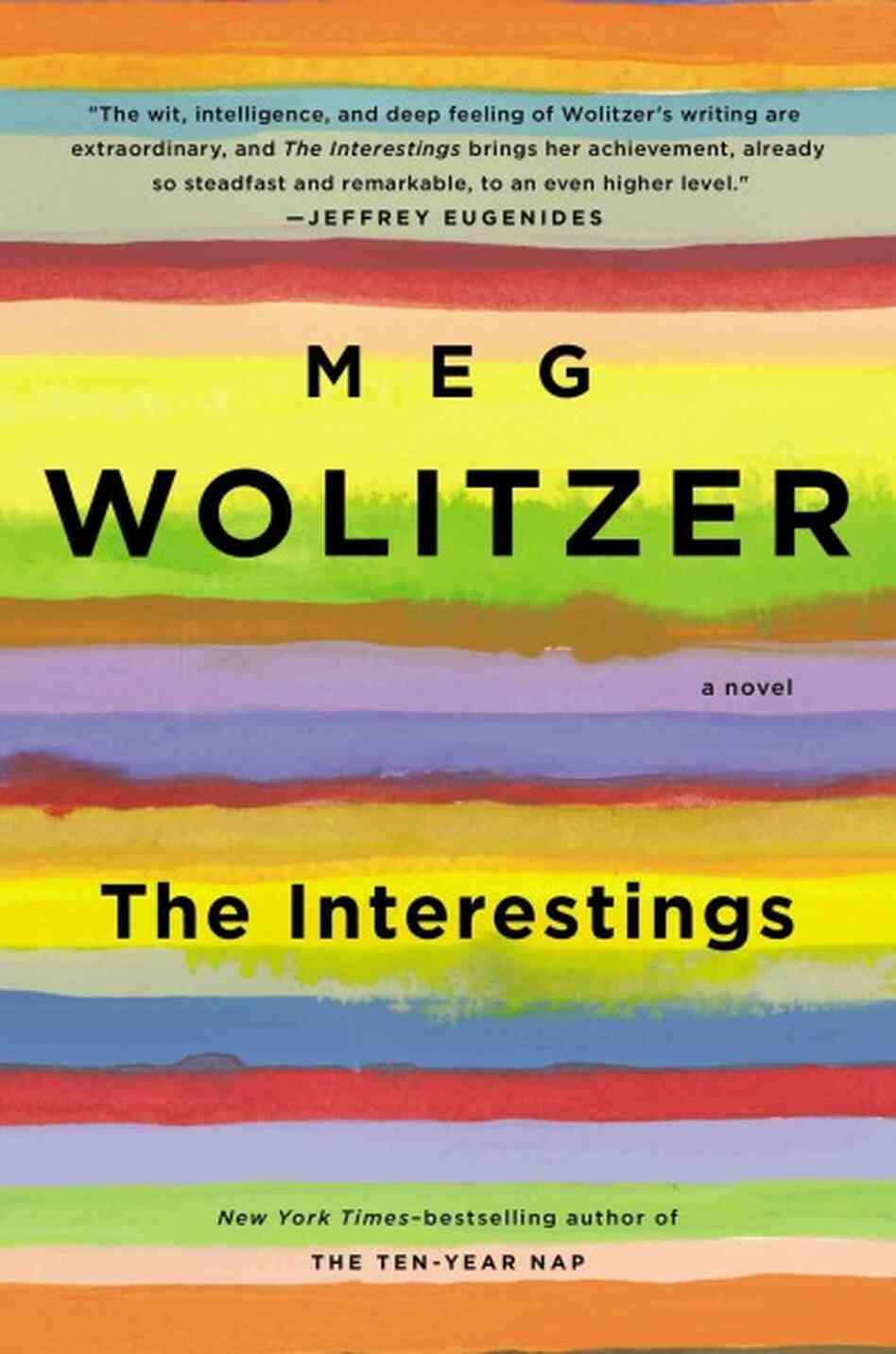 I probably should have read this book with people.  I think I may have had more grace with the characters if I had.  Though, I still read it quickly and stayed up too late reading a few nights in a row to finish it.  Perhaps it was these characters seemed too realistic and I'm tired of this reality.
The Interestings by Meg Wolitzer is about a group of friends who meet at a summer camp for the arts and follows them through adulthood.  Five friends who live in Manhattan invite Julie, the main protagonist who lives in a Long Island suburb and whose father just died, into their fold and christen her as Jules.  She can't believe her luck as she becomes part of, what seems to her, as the most interesting groups of people she could have possibly crossed paths with: a budding cartoon artist, a son of a famous folksinger, a dancer, an actress.  As they grow up, they have varying degrees of success–the cartoon artist becomes incredibly wealthy creating a Simpsons-esque show, one is involved in directing, one abandons his talent to attend MIT and study robotics.  Jules makes an unsuccessful run at acting and ultimately becomes a therapist and struggles to make ends meet with her husband.  A lot of the book is dedicated to Jules envy of her wealthy friends and Wolitzer explores within all of the characters what it takes to be happy.
Though I moved through this book quickly, I lacked patience with the characters.  It seemed to be that everyone was miserable.  And that was depressing.  Then as I started thinking about it, so much of the fiction I read is about adults who are miserable.  That was even more depressing.  I tried to unravel where this was coming from in our culture: can we blame it on advertising creating a constant want for more? Or perhaps our susceptibility to advertising? Or the way that our attention spans have shortened thanks to social media? The instagram-ification of curating one's life? No.  I think it comes down to a bit of mental discipline.
I initially sat down to write this post on the 4th of July and didn't get very far.  While I was trying to write at my annoyance of the characters not being satisfied with what they had, or seeking out satisfaction in all the wrong things, I couldn't do it.  Because I was moping about the fact that I didn't have beach access or a lake house or outdoor space or a hometown parade.  I could not shake the hunger of want (the post I ended up writing that day touched on it a little bit).  In hindsight now, I am humbled at my own ridiculousness–let's look at this pattern of the rest of my day:
 My fiancee (the best person I know) made me waffles (my favorite brunch food) and forced me out of the apartment to go on a walk to the park (my favorite place in Brooklyn).  We got coffee (mental relaxation) and browsed Park Slope Community Bookstore (a bookstore open on the 4th of July felt miraculous).  We went to have burgers with dear friends and later sat with another dear friend while she had to get an emergency medical test done (both the essence of community). See what I'm saying? I have a lot to be thankful for and the things with the most true value are the ones that make life the most full, if I stop and think about it–and do that more than I dream of someone else's lake house.  And once I realized that I had the same kind of envy as Jules, I was able to have more grace with her as a character–I can't judge because I'm no better.
Interestingly enough,  one of my favorite quotes is on the sidebar of this blog: Teddy Roosevelt said that "comparison is the thief of joy." They told me in graduate school that learning is recursive–sometimes I have to stop and just keep remembering for the umpteenth time where true life resides.  It, of course, is easier to complain and compare and want–but, the quality of life outcome just does not compare with training my brain to be thankful in the moment.